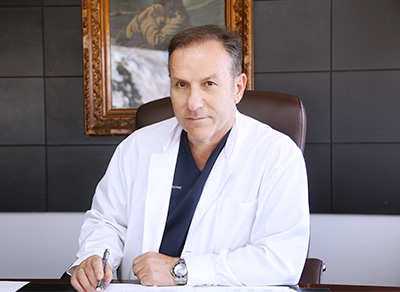 Dear friends,
We welcome you to our online presence and thank you for your time. In the fascinating world of global well being, aesthetic medicine refers to much more than the aesthetic restoration of the face and the certain body parts of each woman. The aesthetic and functional treatment of the female vulva is the new booming trend, both in the US and worldwide.
The natural signs of aging become apparent to each woman eventually for every modern woman who wishes to remain young and sexually active. Vaginal rejuvenation addresses the consequences of the natural aging process offering solutions that help to regain her vagina youthfulness.
As we grow older, our body produces less collagen so we gradually lose volume in our skin and tissue. In addition, when this fact is combined with pregnancy, childbirth and hormonal changes, we often notice changes in the appearance and the functionality of the female genital area. Focusing exclusively on Aesthetic Gynecology, my team and I personally, we are dedicated to take good care of each woman individually, depending on one's own needs and desires.
By proposing and choosing the right treatment plan, we are able to restore the elasticity and youthful appearance of the genital area, offering every woman the opportunity to enjoy her normal everyday activities and a satisfactory erotic life, free of functional and aesthetic concerns.
We invite you to browse our website and find out more about the exclusive medical solutions that Aesthetic Gynecology can offer today. And of course, we will be happy to discuss with you on anything that worries you.
Sincerely
– Nikolaos Naoum MD
CURRICULUM VITAE
Dr Naoum is a leader in female genital rejuvenation procedures and surgery. As a gynecologic surgeon and a member of the Hellenic Society of Obstetrics and Gynecology, Dr Naoum offers the latest and most innovative techniques in the evolving field of cosmetic vaginal surgery. Cosmetic gynecology is an upcoming field, which allows women to take control of their self-confidence by removing esthetic concerns regarding their vaginal appearance. It is important for women to feel as confident and satisfied in their sexuality as possible and Dr. Naoum's experienced team is here to help.
Our medical center, "Ananeosi", is one of the few, offering these procedures which increase female confidence. Dr Naoum has treated patients from all over Europe. His clientele also includes celebrities, business executives, scientists, and professionals in many fields. His signature procedures have been developed in response to listening to all his patients. These state-of-the-art procedures are Laser Vaginal rejuvenation (VAGITENSE), vaginoplasty, labiaplasty and advanced clitoris hood reduction (one-cut technique).
Working Experience
Rejuvenating and Cosmetic Gynecology
Founder & Medical Director of "Ananeosi" Medical Clinic
Jan 2009 – Present
Private Obstetrics and Gynaecology Clinic
Founder & Medical Director
Jan 1994 – Jan 2009
"Bodyline" Laser Centers
Medical Director of "Bodyline" Laser Centers
Jan 2003 – Jan 2008
Education
National and Kapodistrian Univercity of Athens Medical School
Grade PhD Candidate "Stroma Ovvary – PCOS"
Specialized in Gynecological Endocrinology Activities and Societies
Organizations
President – Greek Association of Cosmetic and Reconstructive Gynecology
Senior Member – ESAG (European Society of Aesthetic Gynecology)
Senior Member and Accredited Surgeon in Cyprus
Honorary Member – Hellenic Cancer Society
Founding Member – Hellenic Laparoscopy Association
Honorary Member – Hellenic Obstetrical and Gynaecological Society
Honors & Awards
Health Care Business Award 2016 for Corporate Social Responsibility (Female Prevention)
Health Care Business Award 2018 for Medical Tourism (Mom Makeover)
Salus Index Awards 2019 Best Practices in Medicine (Reconstructive – Cosmetic Gynecology)